Attended Josh Smith's Big Sky Knife Show and Hammer Inn last weekend, this is my 4th time attending. This is one of my favorite shows, it features a limited number of makers and collectors all able to spend a lot of quality time together socializing and talking knives. The Knife Show starts Friday evening in an art gallery in downtown Missoula, however, most everyone gets together beginning mid-morning Friday out at Josh's ranch. The day consists of talking, drinking, eating, cigar smoking and playing with knives. Josh and his wife Jodie are wonderful hosts. Here are some pictures of the scenery at Josh's ranch;
On Saturday the Hammer Inn begins and it is open to all. Quite a few knife makers attend the learning/skills seminars that take place all day Saturday and continue Sunday morning.
Here are a couple pictures of the training/skills session, first is a tent to provide some shade;
Here is Tim Hancock teaching a seminar,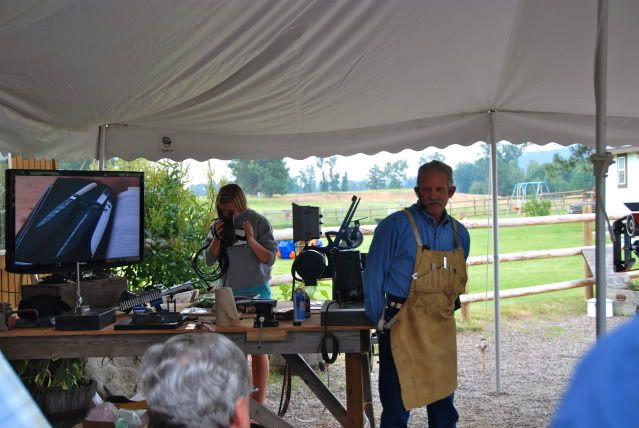 Most of the knives are sold lottery style at the Art Gallery and some are available the next day out at Josh's. Here are some of the knives;
Josh Smith Bowie and 2 blade folder
Josh Smith Push Dagger
Enrique Pena Knives
Tim Hancock Hunter
Tim Hancock Bowie
I was lucky enough to get drawn for several knives including these;
Ken Steigerwalt Deco Folder
Enrique Pena 5 Blade Sowbelly Prototype
Enrique Pena Pre-ban Ivory Stockman
Owen Wood Deco Dagger
This is a great show and I recommend attending if you are able. Glacier National Park is a few hours north of Josh's and Yellowstone National Park is about 5 hours south. The fishing in the area is some of the best in the lower 48. Many guests arrange to enjoy these many wonderful opportunities in the area along with the show and hammer inn. Josh is now doing the show every other year. Check it out, you will not regret it.