I was going through my photo files the other day looking for an image of a particular knife and ran across some photos that were taken for David Darom's book "The World of Art Knives" some time back. To me, these images depict "Classic Fisk" knives and I have never posted them before so thought I would share them here.
This first piece is Jerry's English Spearpoint Bowie. It's actually the first knife I ever purchased from Jerry. It has his "running wheat" pattern on the ferrule and beads engraved on the guard and his "wolf's tooth" damascus pattern. I believe I purchased this piece from him at my second Blade Show.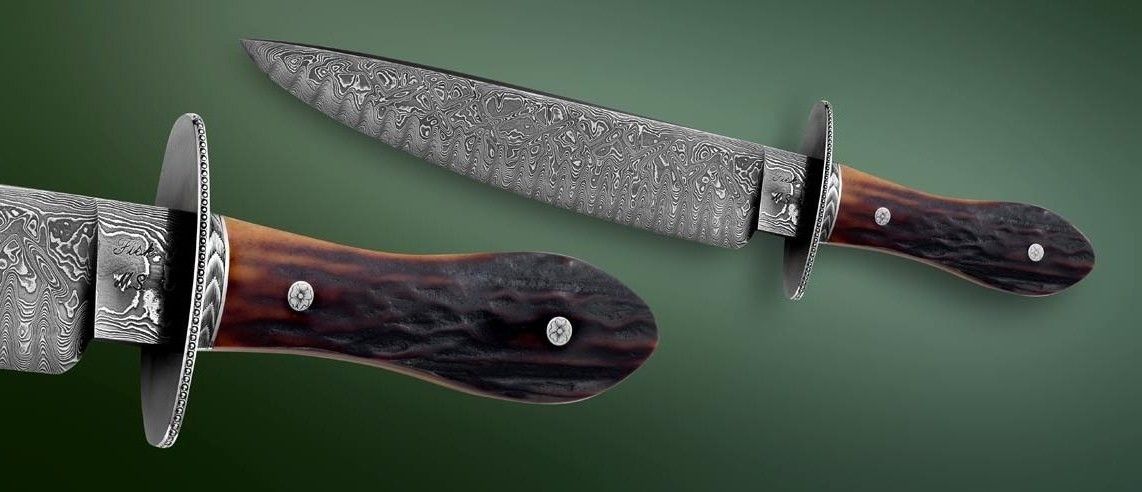 This image represents several of Jerry's "Classic" models.
There's two Senderos, one being a very dressed up model which was his first with a frame handle and rear bolster and also the first Fisk Hunting knife designated a NLT (National Living Treasure) piece. There's also a GameMaster Hunter and a Dressed up Fisk Military Model.
Hope you enjoy seeing these images and I will share more later.